Rates
Part P non notifiable works
Part P Special locations



Since the introduction of
Part P of the Building regulations in April 2006 (
This link will take you to the full online copy of the document.
)
it has become illegal to carry out work in a dwelling house on certain parts of an electrical system and in certain locations.
Below you will find images from the on line document of the relevant sections.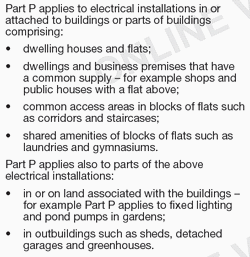 Electrical Charges & Rates
top of page
Pre work inspections and site visits per hour

£25.00





Standard callout charge 1st hour

£35.00

Each additional hour

£27.50





Portable Appliance Testing 1st hour

£35

Each additional hour

£27.50

Cost per item tested

£0.50





Periodic Inspections per hour

£25.00





Billing is based on journeys leaving base to returning to base
Travel expenses are included within travel time

top of page