Custom Design & Manufacture by s1b.com
Bespoke LED solutions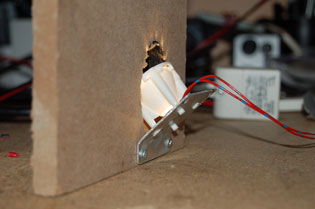 This is the test / mockup for a 1 watt Luxeon based led fitting to light a conservatory roof. The client ordered 24 fittings.




His & Her star signs.
| | |
| --- | --- |
| Sue & Steve Arnott wanted something different for their bathroom. We discussed various ideas and settled on their star signs created with point source fittings modified to take leds. The effect is fantastic - it's bathtime by starlight. | |
Radio / Remote Control


Some times it's not practical to chase into a wall to install a new light switch for say an outside light.

Remote control systems are an ideal alternative. Using something as familar as a car style fob it's possible to contol upto 4 separate lighting circuits. You can even control the lights as you drive to your house.




Backup lighting systems.




Leaving in a rural area that is prone to power failiure it is important to have a backup lighting system.


Similar to an emergency lighting system and using standard uninteruptable power supplies. s1b.com can construct bespoke systems using led light sources to keep enegy consumption low.

Do you have an idea for a light fitting?
Would like something completly different?
Have a lighting control problem you don't know how to solve?

Use the contact us link above and we'll see what we can do.